Bill Gates, Steve Jobs, Mark Zuckerberg - what is common between these three names? They have companies worth millions of dollars, their minds are
Bill Gates, Steve Jobs, Mark Zuckerberg – what is common between these three names?
They have companies worth millions of dollars, their minds are worth their weight in gold and they are all college dropouts. While college degrees are gaining importance the world over, we wonder how these revolutionaries have made it this big without even a degree.
Looking closer home too, there are a bunch of brilliant minds in India who have identified a gap in the market, started a business and are regarded as pave-changers of our time.
Why then are young students who dropout of college to start something of their own dismissed and disregarded?
Why is it difficult to accept that some people cannot fit into a box?
While a college degree is a faster and sure-shot way to make money, there are some minds that create paths where there were none. As a society, it is our duty to encourage them and support them. The right guidance, ideation and motivation can transform any individual's life and career.
5 successful businessmen without a degree who have made a name for themselves solely based on their talent and commitment are Ritesh Agarwal, Kunal Shah, Kailash Katkar, Azhar Iqubal and Ankit Oberoi.
Who are they and what do they do? Let's find out!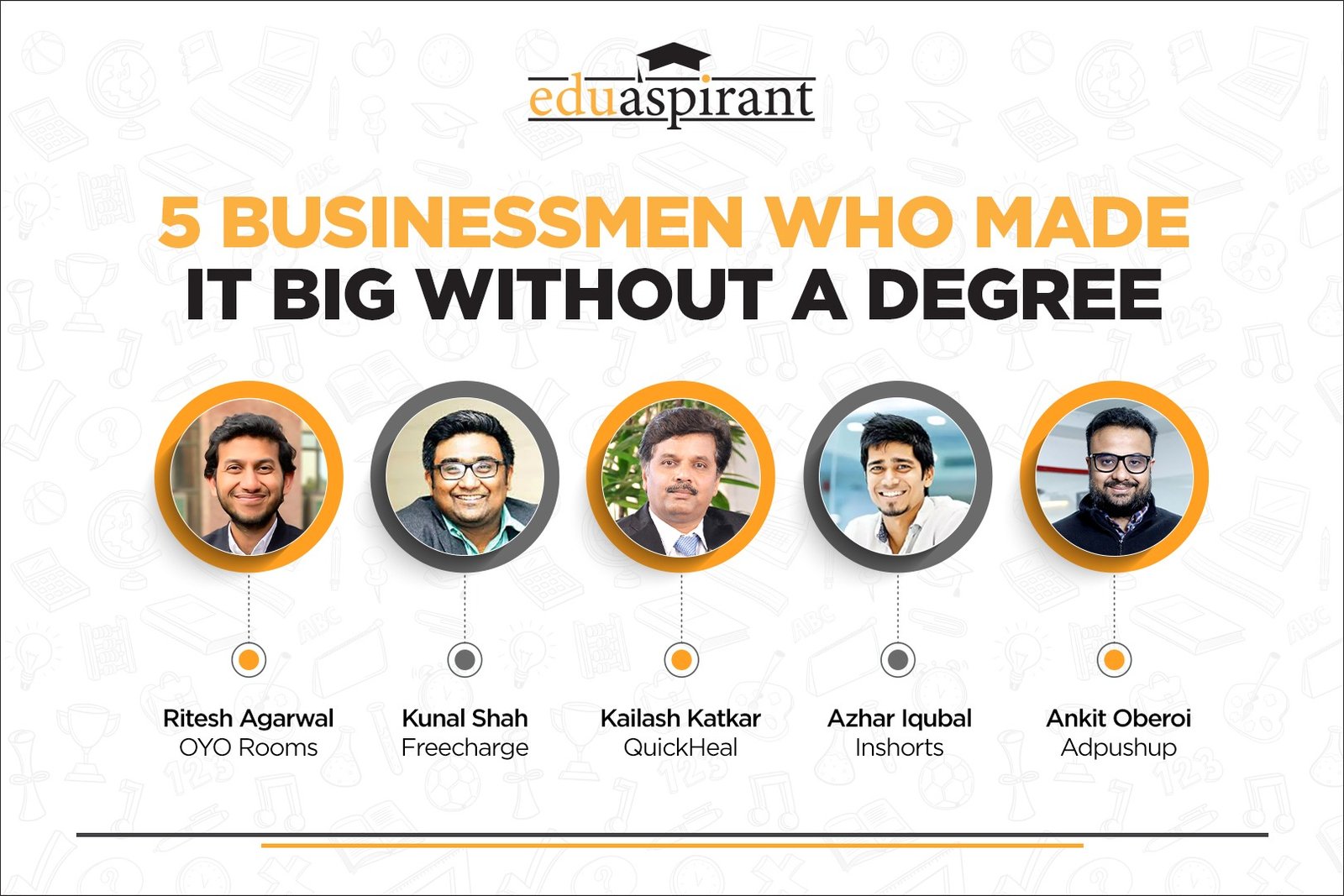 1. Ritesh Agarwal
Whether you have heard of his name or not, you would have definitely experienced his product. Ritesh Agarwal is the mastermind behind the immensely successful startup OYO Rooms. At 18, he dropped out of college and started Oravel Stays, a portal to book budget stays. A year later, it received a grant of $100,000 and the name was changed to OYO Rooms. The rest, as they say is history.
OYO Rooms has a network of over 2000 hotels around the country offering comfortable, budget stays to travellers. Ritesh is a regular speaker at entrepreneurial conferences and is an inspiration to thousands of youngsters. He has won many awards, has been featured across the world and is the youngest billionaire of our country. As of 2020, his net worth is estimated to be over $1 billion.
How many people in their 20s can say they earned that?
2. Kunal Shah
He is a young, dynamic mind who founded Freecharge – one of the most path-breaking apps for online payments. This was at a time when India was finding its way to paying online. He dropped out of his MBA degree and decided to actualize his dreams.
While he came up with an idea that was going to change the payment landscape altogether, it was very tough to sell it to big names like Amazon, Flipkart, etc. With thorough planning and meticulous execution, he got all of them onboard.
The idea behind Freecharge was to allow people to make all kinds of payments through this portal and get the chance to win cashback and offers from partner brands. Kunal managed to tie up with famous names like McDonalds, Pizza Hut, Dominos, and many more. In April 2015, Freecharge was bought over by Snapdeal for approximately $400 million.
3. Kailash Katkar
Whenever you think of cyber security software, QuickHeal is one of the top names that comes to mind. It is the brainchild of Kailash Katkar, who currently sits at the helm of a INR 200 crore business. Kailash hails from a small village called Rahimatpur (Maharashtra) and has never had a formal education. He is the poster boy for dreaming big and then realising those dreams.
QuickHeal Technologies is an anti-virus product company that offers a huge range of security software for computers. Cloud-based security and machine learning may seem like fancy words but Kailash has been using them for over two decades. QuickHeal offices are spread worldwide and the company is estimated to be worth more than INR 2500 crores.
4. Azhar Iqubal
Another product that most of us use in our daily lives is Inshorts, a news app that delivers news in 60 words or less. Azhar Iqubal is the man behind this brilliant idea. He is known to have dropped out of IIT-Delhi to start Inshorts because he understood that the content consumption patterns of the country were changing.
Addressing those who are busy or lazy to read news in its totality, Inshorts gives the jist of the news in short. It had started off as a facebook page and was later converted to an app. Today it is one of the highest rated news apps and has raised over $20 million in about 5 rounds of funding.
5. Ankit Oberoi
Ankit Oberoi believed right from the start that during the digital revolution, college was not necessary for him. He dropped out of Maharaja Agrasen College of Delhi University and co-founded Adpushup, which allows bloggers and publishers to optimize ads on their website without having to learn coding.
Ankit founded Adpushup in 2014 after he had been making Adwords for content websites on Google. Currently, the company is in collaboration with over 300+ web publishers and has a revenue rate of approximately $10 million.
WHAT CAN YOU LEARN FROM THESE SUCCESSFUL BUSINESSMEN?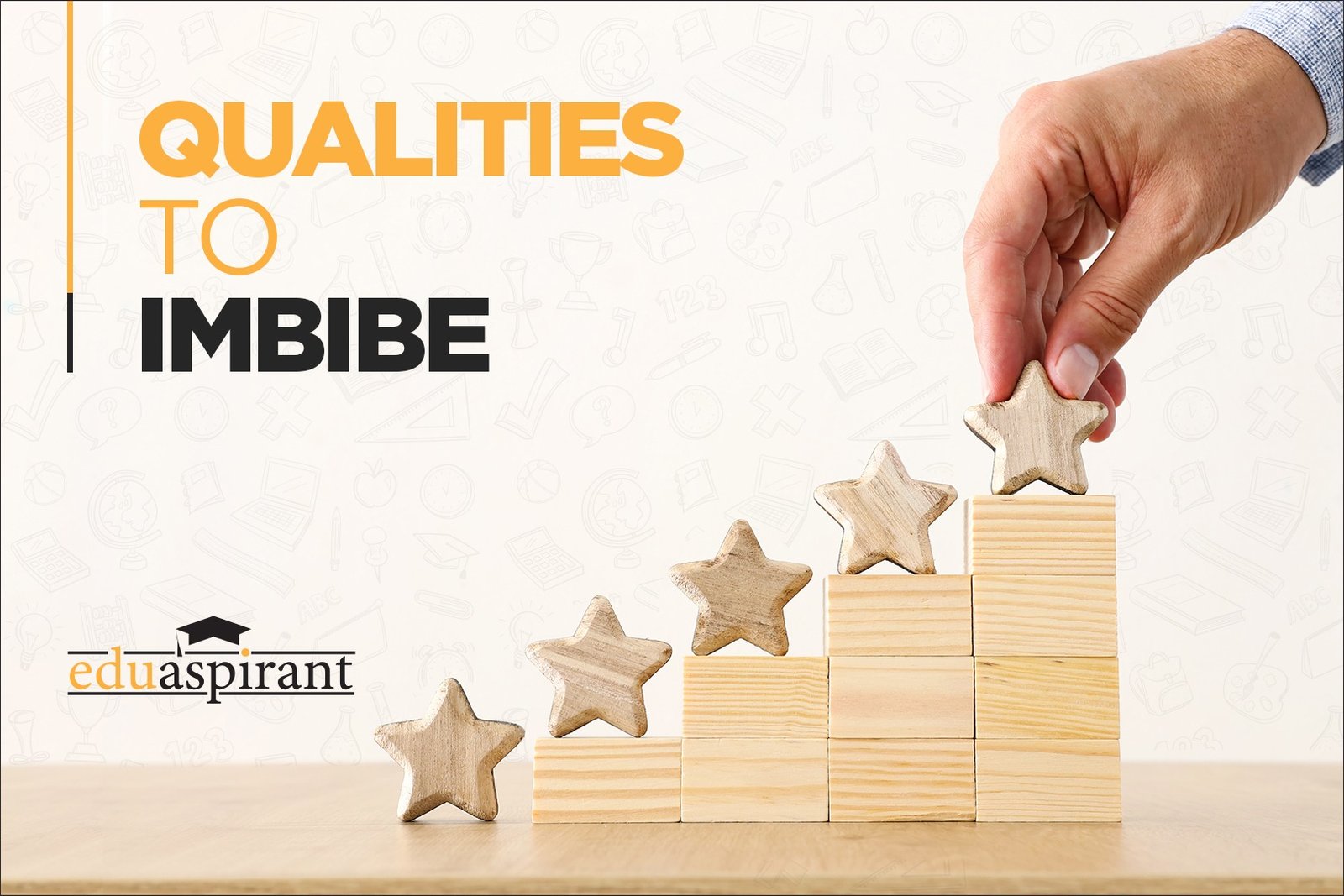 All these trailblazers have some commonalities that set them apart from the rest. We've tried to decode the common qualities of these entrepreneurs below.
Fearlessness
Knowledge and Awareness
Self-Discipline
Persistence
Open-mindedness
Strong Work Ethics
Passion and Determination
Self-Motivation
Developing and nurturing these qualities will equip you to be prepared for everything that comes in your way, good or bad. As an entrepreneur, the journey is not always easy, but the fruits of your labour are extremely rewarding.
While a degree can accelerate the process of learning, it is not the only way to achieve success. What works for everyone may not work for you and vice versa. It is important to understand, and plan properly before taking any step.
However, if you think you have an idea that can change the world, go out there and execute it!