Designers are usually seen playing on Photoshop with some colors and fonts as they twirl about in their office chairs. Artists are people who don't
Designers are usually seen playing on Photoshop with some colors and fonts as they twirl about in their office chairs.
Artists are people who don't do much 'work', except sit in the balcony looking over a mountainside as they paint on a canvas.
If you are a design graduate, you probably bang your head against the wall every time you hear someone say one of these statements. As idyllic as careers in art and design may sound, they are actually a whole lot of hard work. From creating designs and artworks on defined briefs to making changes as per a brand manager's feedback, it takes a lot to be in the creative industry.
At a time when the world has gone digital, the value of designers has come to the forefront. Whether at home or at work, they can make or break your brand with a single illustration. That is the beauty and power of this degree and skill.
In India, there is a massive dearth of skilled designers and artists. Out of a whopping 62000 required, there are only 7000 qualified designers and only 5000 are pursuing the stream. This creates a huge void in demand and supply.
If you are looking to pursue art and design careers but don't know which would be the best option, you have arrived at the right place. We have put together the top ten career opportunities for design graduates that will help you streamline and make an informed choice.
Before we deep dive into the options available, let us give you an overview of the skillset expected of any design student.
EXPECTED SKILL SET
Strong imagination and aesthetic sense
A practical approach to designs
The flair to work with color, space, forms, shape, etc
Ability to come up with new and creative ideas
An eye for detail
When you are a fresher looking for a job, you may wonder how to showcase these skills. While design is a way of thinking, Alina Wheeler, branding consultant and author, had rightly said – "Design is intelligence made visible." You have to show them what you've got.
The simple way to do this is to MAKE A PORTFOLIO – a collection of all your best design samples, clients you've worked with and great feedback received. It gives employers a clear idea of your personality and your skills.
There are a multitude of options to choose from, but the route you take must be a product of your skills and interest. From photography, painting and art conservation to animation, architecture and media, most industries require design assistance to make an impression.
TOP 10 JOBS FOR DESIGN GRADUATES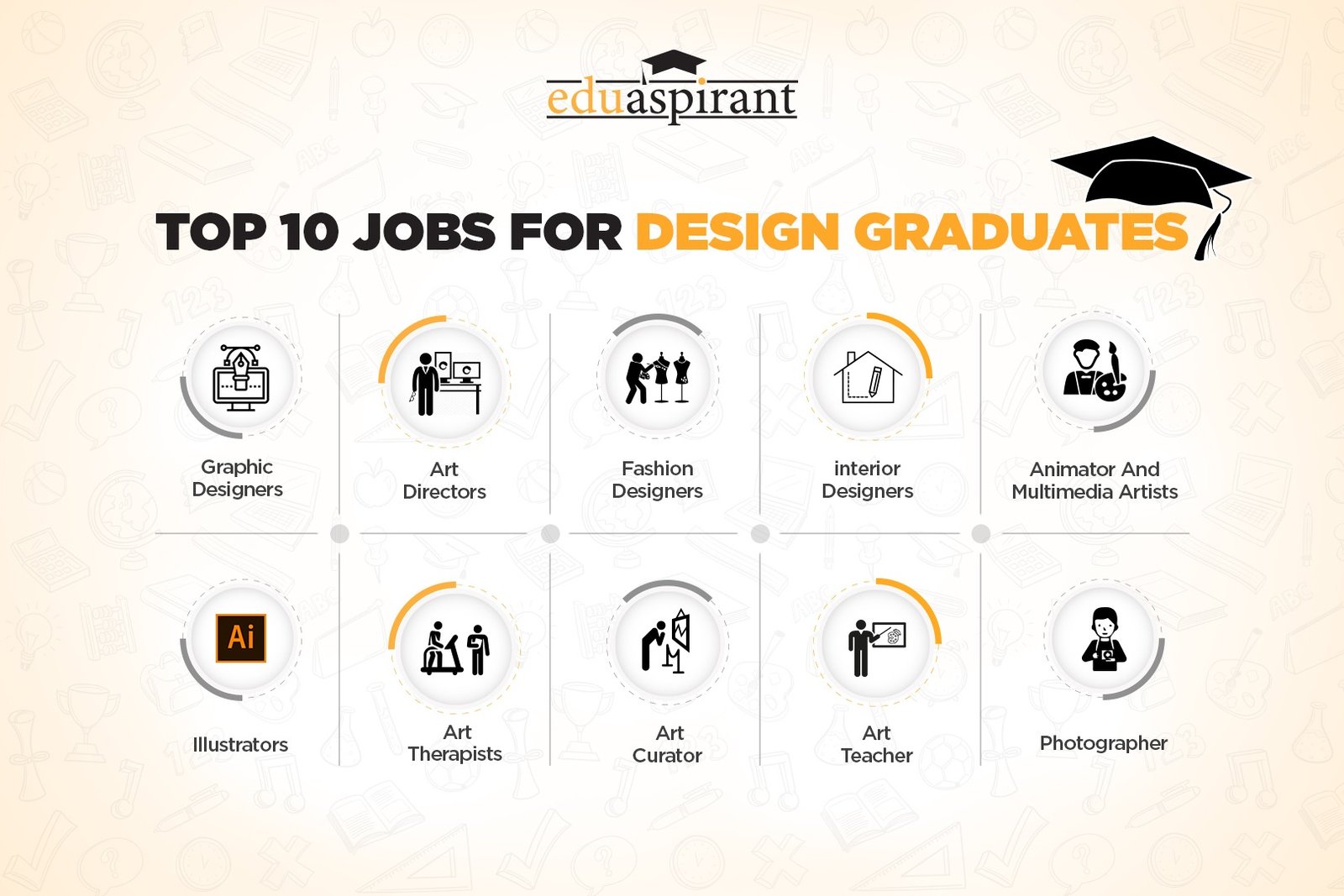 So, what are the jobs available for art and design graduates?
Without further ado, let's go over the top 10 designer jobs making a buzz in the industry:
1. GRAPHIC DESIGNERS
What they do: A graphic designer usually has the responsibility of designing promotional materials like displays, logos, brochures, social media posts, signage, advertisements, etc. They can even take the product design career path to help develop packaging for different clients.
How they do it: They use specialised software like Photoshop, Illustrator, CorelDRAW and the likes to design material. The designers work with account managers, clients, creative directors to come up with a plan and brief which is then followed to make high impact visual solutions.
Who they work with: Graphic designers work with the creative teams in all organisations. They are required in public relations, advertising, marketing, product development, and much more.
2. ART DIRECTORS
What they do: They create visual images that catch attention, whether those are moving pictures or steady ones. From magazine covers to films to TV shows and even theatre, they are responsible for ensuring that a concept comes to life. Apart from that, they also play a leadership role in supervising and guiding junior creative artists and designers.
How they do it: Their eye for detail is their strongest point. They have to find the right balance between fantasy and reality in order to make the picture or video believable and yet aspirational.
Who they work with: They work with film directors, theatre artists, channels, writers, directors, editors, brands, etc.
3. ANIMATOR AND MULTIMEDIA ARTISTS
What they do: Animators use multiple images to create the illusion of movement. This is one of the most popular and sought-after professions amongst the art and design career options. To stand out to an employer, it is advised to have an outstanding showreel ready.
How they do it: They have different ways of animating images. While some use pen and paper, there are others that use computer software.
Who they work with: They work in industries like gaming, films, advertising, etc. They are generally hired by animation studios or then they choose the freelancer route.
4. FASHION DESIGNERS
What they do: Fashion designers create and produce clothing, footwear and accessories for different fashion brands across the world.
How they do it: They have to stay up to date with the current trends in the fashion world. They use these insights and their creative juices to design material for customers. The process generally starts with a rough sketch before it sees the light of day as a product.
Who they work with: Clothing brands, films, accessory brands, footwear companies are some of the industries that fashion designers work in. It is a much-coveted job for design graduates as they dream of working with the likes of Gucci, Louis Vitton, etc.
5. ILLUSTRATORS
What they do: This is another career in design and technology that uses software and creativity to make images that communicate ideas, messages, concepts and stories. Their main goal is to work along the lines of a clear brief given by any brand, personality, client or company.
How they do it: They have to be able to work in a variety of different formats of Computer-aided design (CAD).
Who they work with: They usually work as freelancers for multiple clients across the spectrum. Illustrators are required in publishing, advertising, gaming, etc.
6. INTERIOR DESIGNERS
What they do: As the name suggests, they design the interiors of a place by combining beauty, safety, aesthetics, style and functionality. Their job requires them to transform spaces using colour, flooring, fabric, lighting, furniture, etc.
How they do it: While some design sketches by hand, others use computer software to do it, They need to have excellent communication skills in order to understand client requirements, in-depth knowledge of spaces and how to work with them as well as strong networking skills. They work in coordination with carpenters, builders, architects, electricians, plumbers, etc.
Who they work with: Interior designers can be hired by anyone who wants to change the look and feel of a place. From airport terminals, malls and homes to offices, restaurants and hotels, they are required everywhere!
7. ART THERAPISTS
What they do: This is one of the tougher jobs for design graduates as it requires an understanding of the human psyche. Art therapists help people use art to explore, understand themselves and express their emotions.
How they do it: They are trained in psychology as well as art/design. They usually have social work experience or knowledge of nursing.
Who they work with: They work with students, mental health patients, specially-abled people, criminals, etc. Schools, prisons, hospitals, rehab units are some of the places that hire art therapists.
8. ART CURATOR
What they do: They are in charge of curating different art forms like sculptures, audio-visual mediums, paintings, etc., for art connoisseurs. They also work towards raising funds and grants for different causes.
How they do it: An art curator is interested and enthused by different art forms and stays abreast of the work being done by different artists and institutions. This is a very competitive field and having a postgraduate degree can give the edge needed.
Who they work with: Art curators collaborate with artists, painters, exhibitors to bring together an exhibition for the general public.
9. PHOTOGRAPHER
What they do: One of the most loved jobs for art and design graduates is photography. Photographers capture a location/event/moment as briefed by a client. They help design the perfect image for the occasion/event.
How they do it: They use a range of equipment to design the location, frame the image and photograph it.
Who they work with: Photography is a skill required across many industries like travel, weddings, fashion, journalism, advertising, marketing, etc.
10. ART TEACHER
What they do: Those who want to impart their art and design knowledge to others, choose this profession. Art teachers require great communication and presentation skills. The job can be very rewarding as you see the growth of your students' aesthetic skills.
How they do it: To become an art teacher, it is imperative that one has a teaching degree. For primary/secondary level, an undergraduate degree works. However, for teaching at the university level, a postgraduate certification is a must.
Who they work with: They work with different educational institutions like schools, colleges and universities.
Apart from these 10 career opportunities for design graduates, they can also explore their talent further and expand their horizons. From mainstream industries to niche markets, skilled individuals with an aesthetic bent of mind are needed everywhere.
All it requires is some introspection and reflection to understand where your talent and interest lie. Combining both will always take you on the path to success.
The French artist Edgar Degas had rightly said – 'Art is not what you see, but what you make others see.'
What do you think the purpose of art is? Share your opinions in the comments.