A Career in Digital Marketing "It's hard to find things that won't sell online." — Jeff Bezos. What is Digital Marketing? Digital mar
A Career in Digital Marketing
"It's hard to find things that won't sell online." — Jeff Bezos.
What is Digital Marketing?
Digital marketing uses digital channels to market products and services to reach consumers. It requires mobile devices, websites, social media, search engines, and other similar channels.
It involves various principles of traditional marketing and is a new way for brands to approach customers and analyze their behavior. Brands often combine traditional and digital marketing techniques to reap the optimum benefits.
Types of Digital Marketing
Below are different modes brands use to boost their marketing strategy.
2.1 Content Marketing
Content is the key! As a professional, you should play with your communications, language, and content marketing skills. It's an essential marketing tool that helps convert audiences into customers by delivering relevant information. The key is to be consistent, communicative, and clear about what you want to promote or sell.
2.2 Search Engine OptimizationOptimizingg the landing pages and the website with high search volume keywords is an excellent way to get your business to become top-tier. The process of SEO (Search Engine Optimization) takes time and effort but helps firms with a significant digital presence. Hence, many individuals might like to specialize in this field because of excellent career prospects in India and abroad.
2.3 Search Engine Marketing ( Pay-per-Click )
Pay-per-click (PPC) will optimize your landing pages to create and execute Ad Campaigns. It will help assist and constantly engage your business with online audiences via paid ads and showcase them to people searching for relevant terms around products or services. These campaigns can be set up on Google, LinkedIn, Twitter, Facebook, or Pinterest.
2.4 Social Media Marketing
I bet all of us are guilty of those impulsive purchases just after seeing an Instagram Post. Well, that's the power of Social Media Marketing. Social media marketing lures your audience into purchasing products or services by making them seem necessary. Social Media Marketing campaigns build brand awareness and establish social trust. Promoted posts and tweets are two examples of Social Media Marketing.
2.5 Affiliate and Influencer Marketing
 It's one of the most trending ways of publicizing your brand online; in this method, influencers promote other brands' products and get a commission every time a sale is made, or a lead is introduced. The Print and Television Industry has been doing it for ages and has succeeded, so why not do it online too?
2.6 Email Marketing
Email Marketing allows you to market your brand to actual consumers who work a 9-5 and do not indulge in online shopping and social media.? EMAIL THEM! Email marketing is another way to promote your brand without persuading the audience. Emails are sent to potential masses that may contribute to the business.
Role of a Digital Marketer
The primary role is to be in charge of all the digital channels and use them for brand awareness and the generation of leads. They put all their efforts into understanding the brand tonality and relevant and ongoing trends, choosing appropriate channels for running marketing campaigns, and devising digital marketing strategies. Their role also includes identifying and evaluating new digital technologies through web analytics tools and measuring traffic on the websitefor optimizingg marketing campaigns. They have to oversee and develop the overall content strategy for an enterprise and marketing campaigns.
How to learn Digital Marketing?
The top 4 Digital Marketing Colleges, according to India Today, are
More than 90 Digital Marketing colleges are approved by AICTE, UGC, NBA, AACSB, AIU, DEB, and MHRD. The duration best digital marketing courses in India varies between 1 year to 3 years.
There are various Digital Marketing Courses Online, here are some of them :
These are all certified courses that will look impressive on your CV.
If you want to go for a free course, Digital Marketing in Google would be the right option. It's a 40 hours ( 26 Modules ) beginners course.
Job Options in Digital Marketing
Salary Prospects in Digital Marketing
Almost 1.5 lacs jobs are being generated yearly due to Digital, and it's just the right time to pursue it as a career. The salary varies depending on the Job option one takes.
Here is a graph representing the average salary for a career in Digital Marketing as per the experience.
Here is a graph representing the average salary for a career in Digital Marketing as per the experience.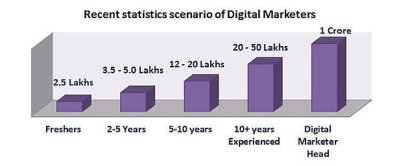 On average, the marketing executive/ digital marketing salary in India for a fresher would be 15k to 20k  per month.
Here is a Graph representing Salaries and Job Requirements for different jobs in Digital Marketing,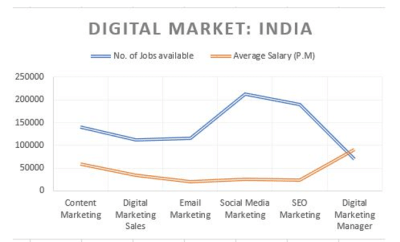 Digital Marketing is the future of Marketing and will only keep progressing with time. It is a field that's worth exploring.
EduAspirant wishes you luck in your future endeavours!